Before Earth Month wraps up, we thought it fitting to recycle and "refresh" our popular "101 Sustainability Innovations in Our Backyard" piece.
All local is global, and Greater Cincinnati is a case study of what's possible in addressing sustainability — from zero waste and solar power to tackling plastics. Startups, diverse entrepreneurs, city governments, community groups, colleges and universities, and corporations are coming together to solve extreme challenges…with a sense of urgency.
Take a look. Join the movement. Get inspired. Tell others! Or "steal with pride" to improve your own backyard. Big thanks to partners Green Umbrella, Alloy, University of Cincinnati, and FlyWheel Social Accelerator for helping to refresh this latest version.
— CEO Pete Blackshaw & Team
National and Global Recognition
Cincinnati consistently tops Most Sustainable City scorecards by Site Selection magazine (2018, 2019). The City ranked #2 in 2020. In 2021, the City broke ground on the largest municipal solar array in the United States.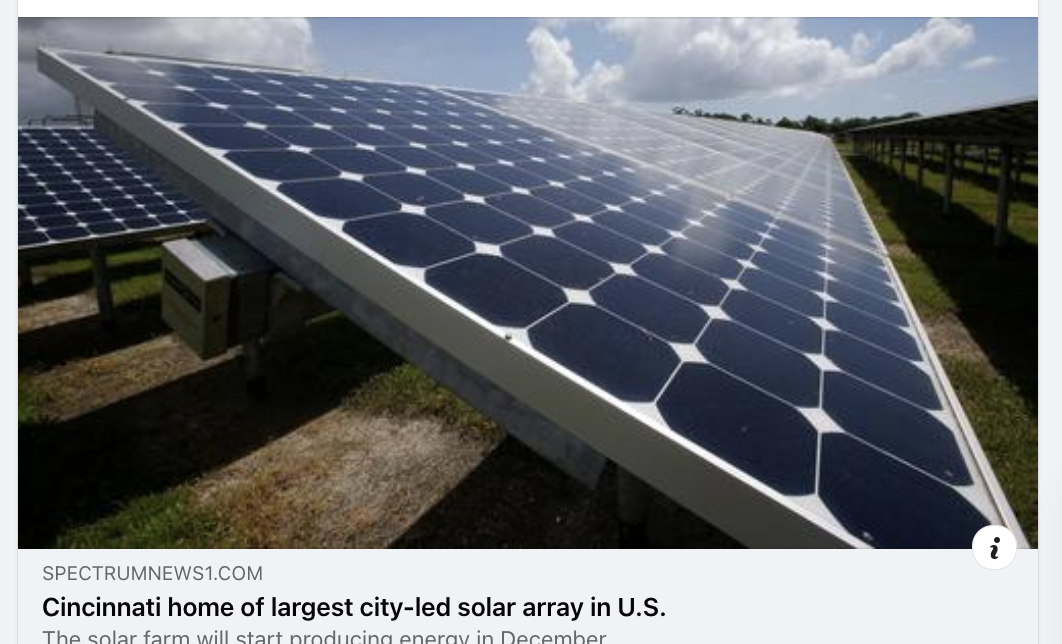 The Cincinnati Zoo is one of the greenest zoos in America and continues to lead the way in sustainability and green initiatives that are recognized nationwide.
The City of Cincinnati's "open data" sandlot is considered one of the most accessible open data platforms in the country. It offers a range of green data available to entrepreneurs to develop or "hack" solutions for the city.
Our top corporate executives recently pledged the first ever "Zero Waste" World Cup.
Nearby City of Hamilton (headquarters for 80 Acres Farms) is building a globally recognized hub for Green Packaging and recently lured global leader Saica (Spain) to build one of the largest facilities in the US for the development and production of recycled paper. Imflux of P&G (sustainability focused plastic molding) is nearby.
The World Wildlife Fund recently touted Cincinnati's environmental and sustainability efforts, including among vulnerable communities. Cincinnati's sustainability leadership is also the subject of a Newsy documentary entitled "Modern Metropolis: Preparing Today's Cities for Tomorrow's Challenges."
Earlier this month, the City, Cintrifuse, startups, and a coalition of business and community groups hosted one of the nation's first "Litter Hack-a-Thon" with over 22 pitch teams and virtual "office-hours" for pre-work. One winner pitched "Litter to Art" NFTs and a self-regulating "Neighborhood DAO."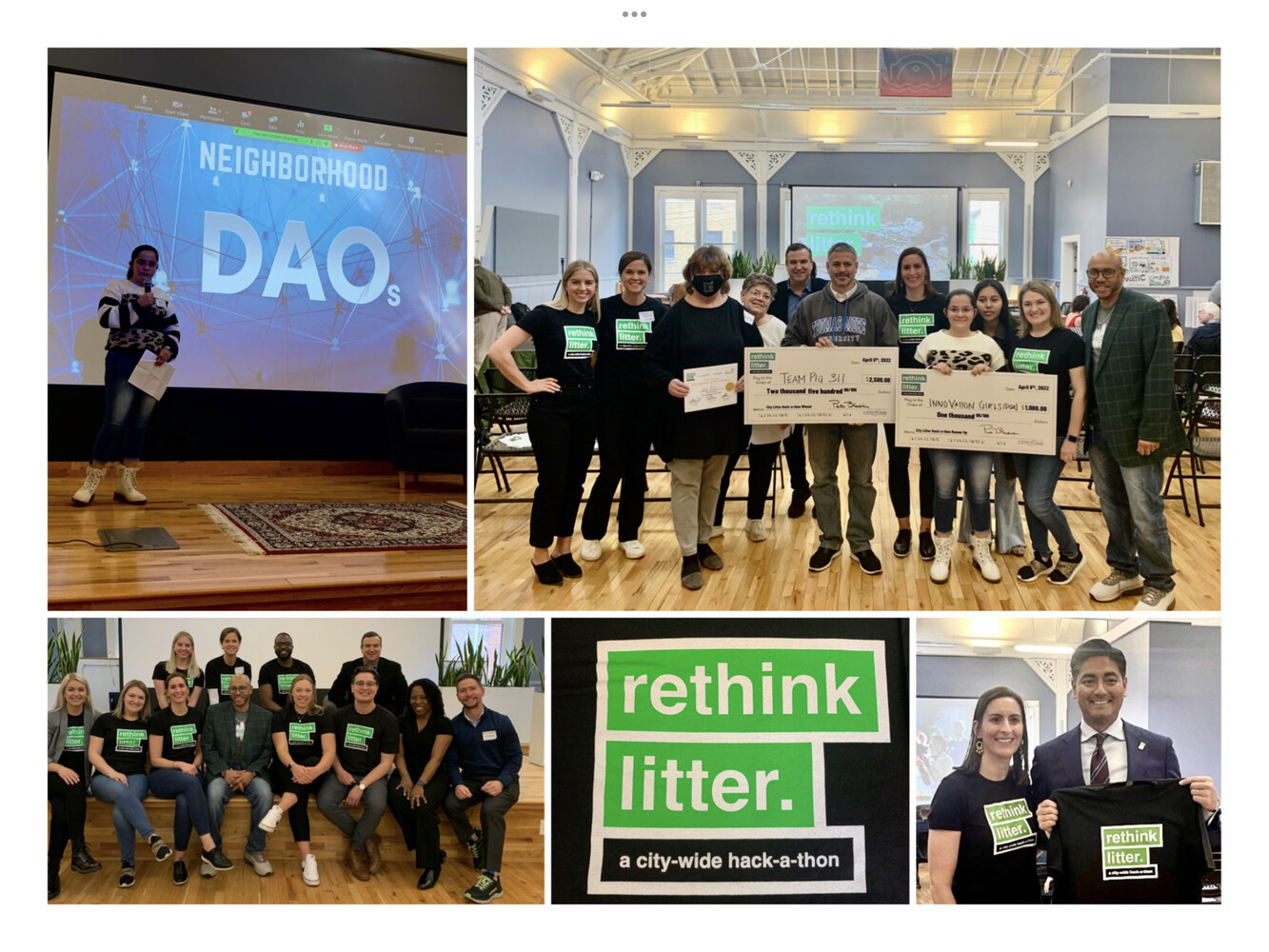 Cincinnati's Central Business district is one of North America's 2030 Districts, a network of healthy, high-performing, sustainable buildings
The 2018 Green Cincinnati Plan is built around 80 strategies to nearly eliminate the city's carbon emissions over three decades. A new plan is underway!
MadTree Brewing is one of the most sustainable brewers in the country, and launched a campaign to give back a percentage of profits to sustainability-focused non-profits.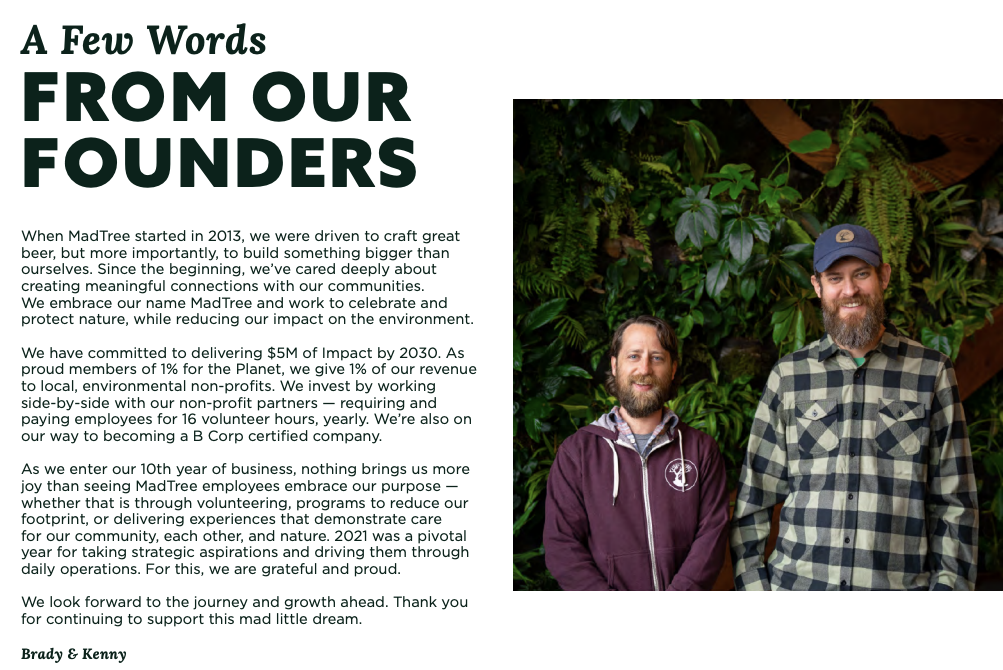 US EPA Cincinnati is home to one of the largest federally funded research and development labs in the country around water-tech, and has spearheaded several significant cooperative research development agreements with fledgling companies including Searen, Micronic Technologies, Waterstep, and more.
Startups Pushing Boundaries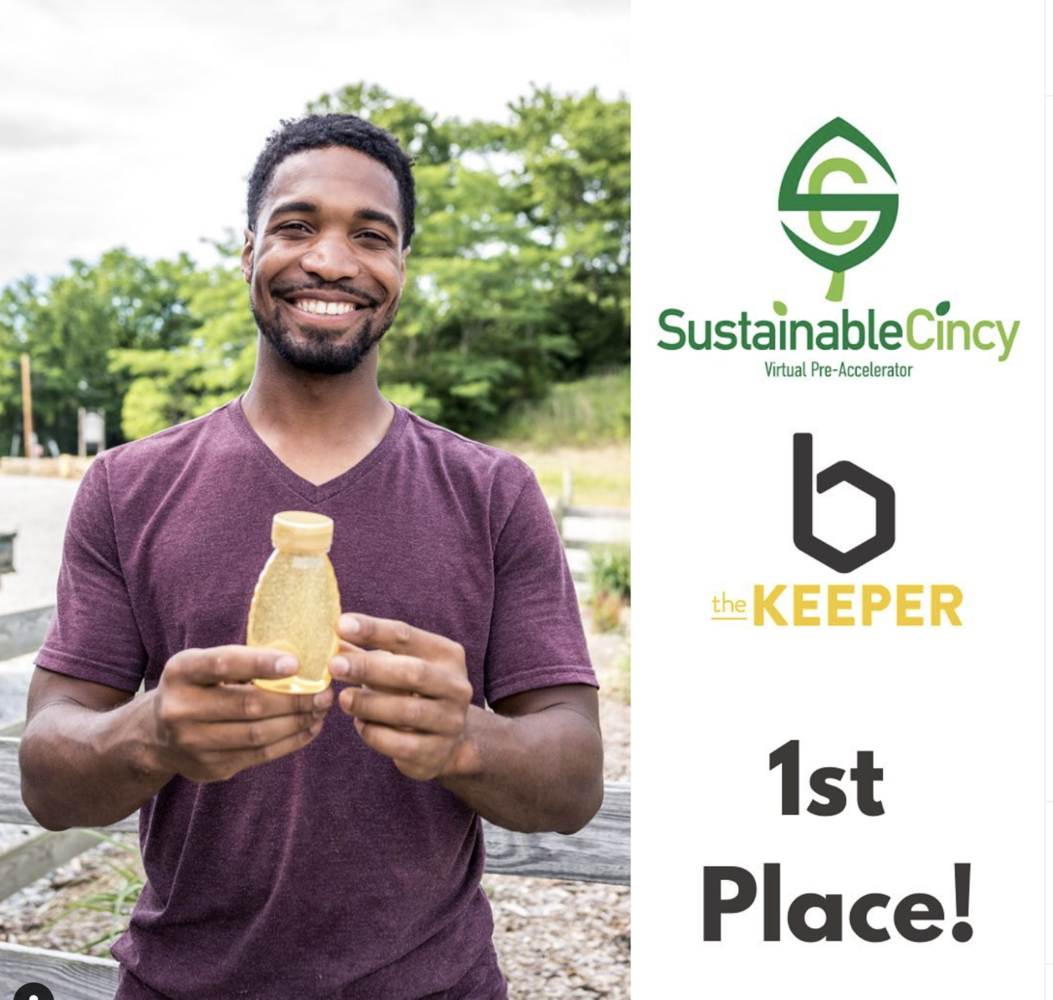 Leading by Example, Influencing the World
Last January, the Mayor and City Council rode literally bicycles together from City Hall to their swearing-in ceremony! Worth adding the City now has one of the most comprehensive system of bike trails in the nation.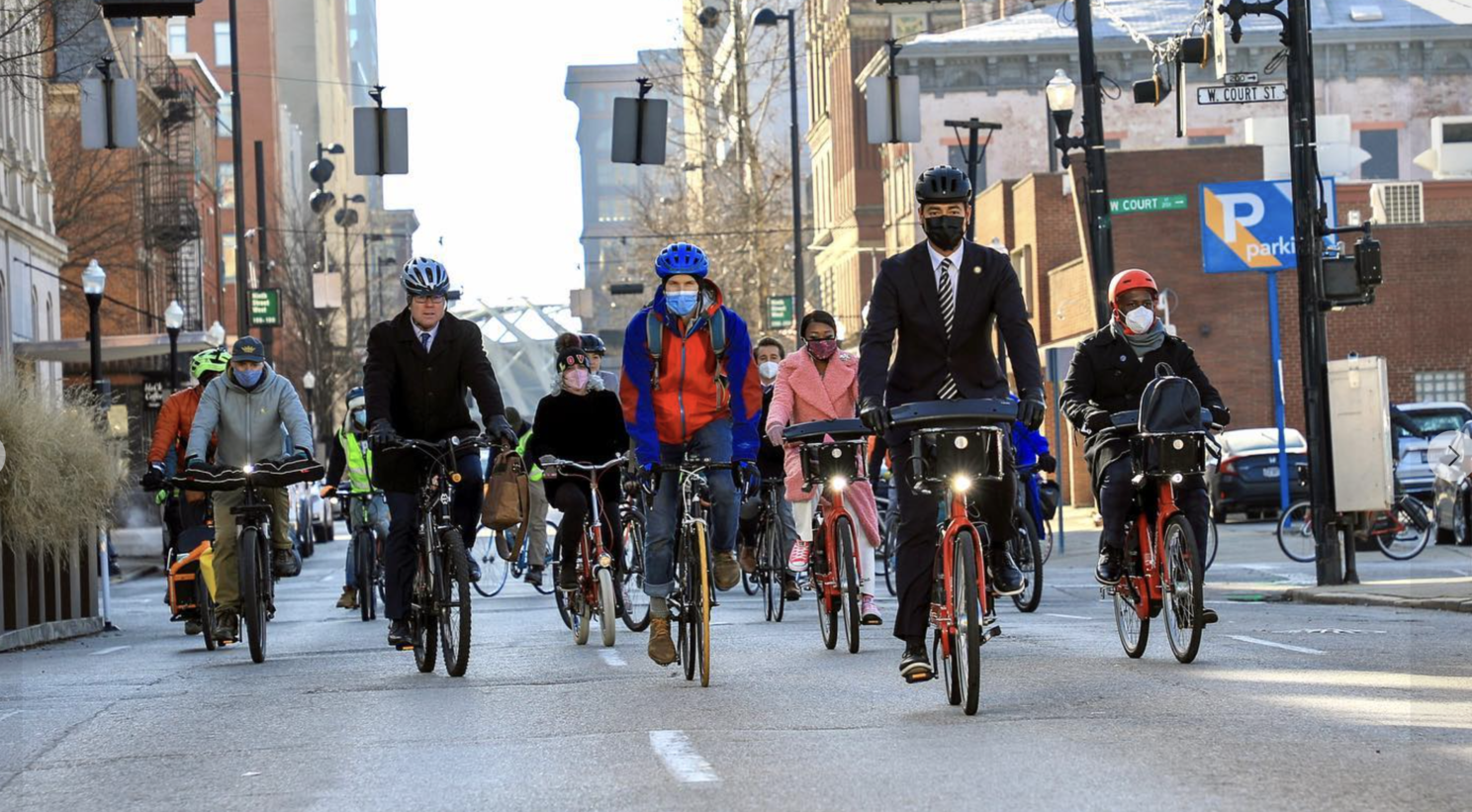 Cincinnati's major corporations — Procter & Gamble, Fifth Third, Kroger, Cintas, Kao, Amazon Air, DHL, KAO, Duke, Cincinnati Bell, PNC, First Financial, FIS Global, and others — are making unprecedented "step change" commitments the sustainability area.
Cincinnati's P&G, the world's largest advertiser, set in September 2021 a new ambition to achieve net zero greenhouse gas (GHG) emissions across its operations and supply chain, from raw material to retailer.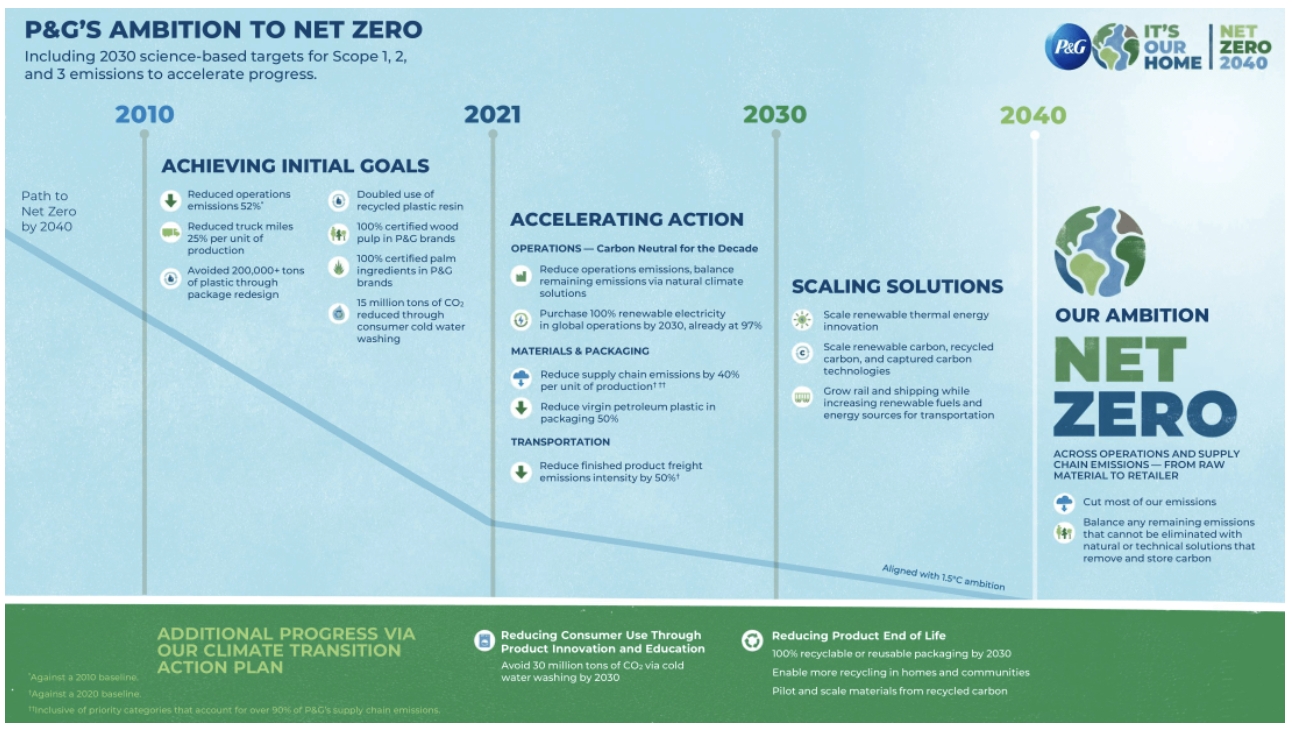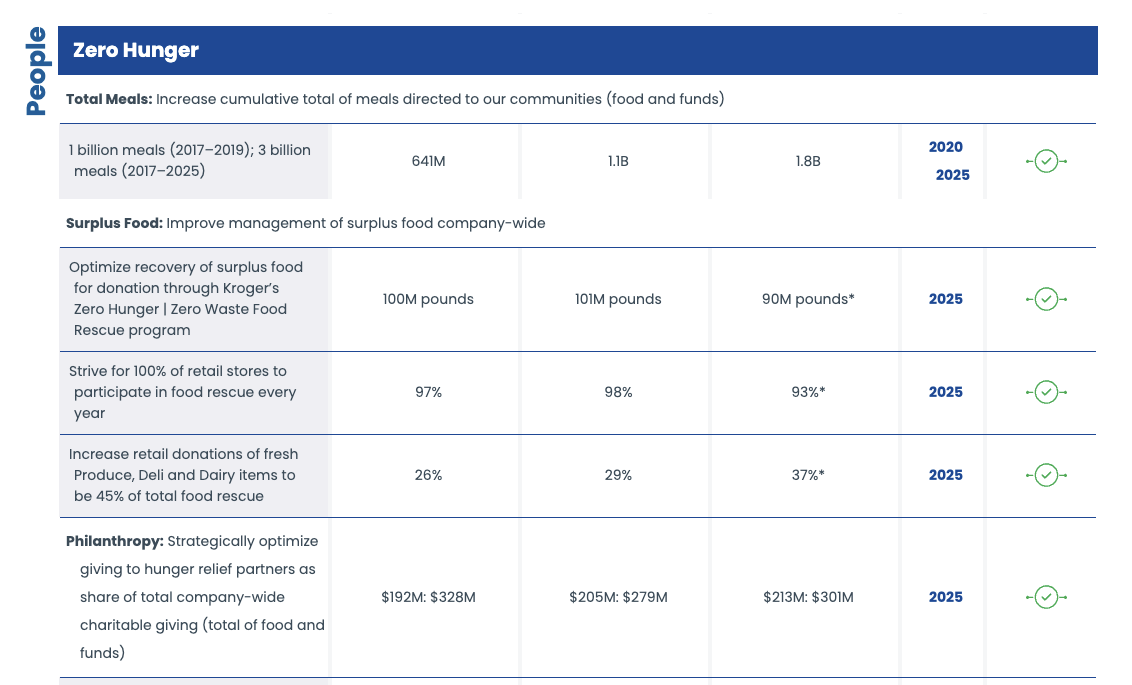 Energy Usage, Clean Energy, Electric Vehicles
P&G pledged in 2010 to have 70% of all washing machine load's low energy wash cycles by 2020. They hit the goal in 2019.
The community launched WarmUp Cincy, a series of energy equity programs for multi-family buildings to reduce household energy burden by 10%.
Amazon Partnered with CVG Airport as a major distribution hub and is switching all land carrier delivery to net zero emissions by 2040
Fifth Third has provided roughly $4 billion in lending and capital-raising services for renewable energy projects since 2012.
Melink Corporation, headquartered in Milford, OH, is a global provider of energy efficiency and renewable energy solutions for commercial buildings.
Cincinnati is the top 20 American cities with LEED-certified buildings and 6th in the number of industry sectors aligned with CleanTech.
Zero Waste, Recycling, Circular Economy
VC fund CincyTech is exploring medical device disposables. Portfolio company Losant provides "smart building" IoT solutions to manage heating/cooling costs, and enable remote monitoring of machines to avoid wasted fuel or power consumption.
Rumpke Waste & Recycling customers can recycle empty food containers and tubs.
Cincinnati now has three #Zero Waste refillery shops — Fill More Waste Less, Koko, Simply Zero — all designed to prevent waste by encouraging consumers to bring their own containers, jars, and bottles.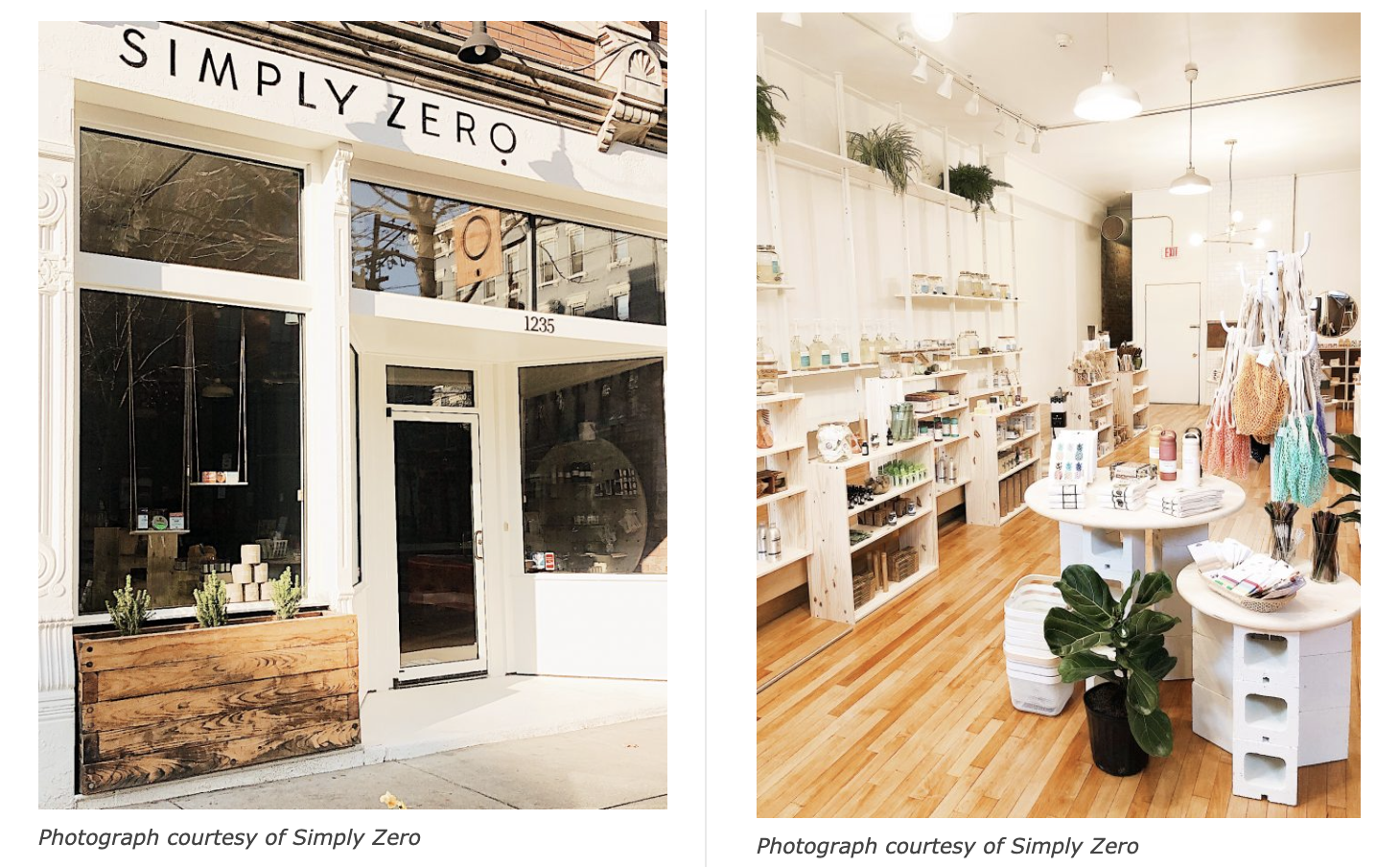 Plastics! Plastics! Plastics!
A passionate team of Xavier University students is leading the fight against ocean plastics with Clean Earth Rovers, a water-borne vehicle that collects plastic waste in harbors. Think "Plastics Pirahna." The product is being tested today!
Purecycle, the chemical recycler for plastics drawing on licensed tech from P&G, went public on Nasdaq and is planning a major production facility on the Ohio river.
P&G's Head and Shoulders brand created the world's first recyclable shampoo bottle made of recycled beach plastic. They are also working with Terracycle Loop to launch refillable packaging.
Mercy Bon Secours hospital is exploring a polypropylene "down-cycling" initiative with major partners.
The Newport Aquarium is playing a key role with aquatic organizations throughout the US in #FirstStep campaign to remove plastics including plastic straws from the Ocean.
Metal Litter Gitter is set out by Mill Creek alliance to intercept plastics before reaching the river
Kroger is teaming up with Target and retailing giants to find a replacement for the widely criticized single-use plastic shopping bag via Consortium to Reinvent the Retail Bag, a venture launched by Closed Loop Partners. Link
To ensure 100% of packaging will be recyclable or reusable by 2030, P&G's Crest and Oral-B brands announced a transition to high-density polyethylene (HDPE) tubes. HDPE provides the same product protection as current packaging.
P&G launched refillable antiperspirant cases that eliminate single-use plastics for its well-known deodorant brands. Secret and Old Spice brands are now offered with an aluminum-free formulation and in recyclable paper tube packaging.
Alloy Growth Lab Water Warriors uses tech to capture agricultural runoff from local waterways made of 90% recycled paperboard, certified by the Forest Stewardship Council (FSC).
Repackaging the (Sustainable) Future
Water Waste & Conservation
Venture Capital firm Material Impact (a Cintrifuse investment) is "democratizing water by pulling it out of thin air" via its portfolio company Source.co.
80 Acres Farms is producing local food crops with 95% less water.
Procter & Gamble, as part of its efforts to address its total water footprint, is spearheading the 50L Home Coalition, where it is working with Electrolux, Kohler, Engie, Suez and Arcadis, the World Bank Group, WBCSD, and the World Economic Forum to develop radical solutions to the urban water crisis.
The Environmental Protection Agency boasts a major R&D laboratory in Cincinnati. The office is a technical anchor for Confluence, the Water Technology Innovation Cluster that's drawing companies and top talent to the region.
The Cincinnati Zoo has saved over a BILLION gallons of water since 2006. The Zoo leverages 30,000 square feet of pervious pavement to allow the storage thousands of gallons of storm-water at a time
Colleges & Universities Step Up to the Plate
The University of Cincinnati, Xavier, Miami, and Northern Kentucky University are powerful engines of innovation, growing new generations of sustainability leaders.
Miami has invested in geothermal and built more than 29 LEEDS buildings. They decreased energy budgets by more than 50% in a decade.
UC Lindner alum, ex-Unilever CEO, and UN Sustainable Development Goals Leader, Paul Polman authored the critically acclaimed book Net Positive in 2021 which highlights how corporations need to give back more to the world than what they take in.
Northern Kentucky University's (NKU) highly innovative Informatics program is enabling students to thrive in today's age of digital transformation — and blending that focus with its emphasis on health and environmental sciences.
Xavier University students have created an IoT platform for sensing and tracing wildfires: Environmental Solution Technologies
The new UC Lindner School or Business is already receiving awards for sustainability innovation. Sustainable design and materials employed in the new Lindner Hall are 35% below what would be expected in terms of annual energy use, saving $165,000 annually
NKU has one of the fastest growing Supply Chain degree programs which encompasses sustainability, carbon-neutral transportation systems and beyond
UC Center for Entrepreneurship will launch Sustainable Invention Immersion Week this summer, a week-long entrepreneurial boot camp, based on a successful Oregon accelerator model, to support UC students looking to develop Cleantech ventures. The program is supported through a P&G higher education grant.
UC recently launched an environmental literacy certificate, and their fast-growing 1819 Innovation Hub provides maker space for sustainability entrepreneurs.
Miami University's Institute for the Environment and Sustainability is educating new generations of environment scientists and sustainability leaders.
Student Taylor Shockley is generating national buzz upcycling old fashion materials at Miami University. A UC DAAP alumni made huge sustainability waves with new shoe brand: Allbirds.
The Miami University Institute Farm encourages consumers to buy locally grown fresh produce Farm program invites families to join produce share.
NKU's Center for Environmental Restoration is focusing on the restoration of Kentucky water streams and wetlands. The initiative has launched 86 restoration projects at 30 different locations preserving over 4,000 acres of wetlands.
UC DAAP Alumni Curt Wilson of BRP Sea-Doo brands has partnered with local Marina Robotics company Clean Earth Rovers .Orion Electronics Company and UC DAAP grad Paul Perkins are providing affordable electronic bikes for urban communities.
UC is a nationally recognized STARS Gold Campus, as awarded by the Association for the Advancement of Sustainability in Higher Education.
UC CEAS Assistant Professor Jingjie Wu is developing research to convert carbon dioxide emissions into ethylene, which can be used in products ranging from food packaging to tires.
UC Psychology Associate Professor Carlie Trott authored, with partners Green Umbrella and the City of Cincinnati's Office of Environment and Sustainability, the Climate Equity Indicators report, which analyzes the 56 neighborhoods in the city in regards to climate factors.
UC CEAS professor of environmental engineering Dionysios Dionysiou created an electrochemical aptamer-based sensor that detects and measures the toxic byproducts of harmful algal blooms that leach into bodies of water. The research has the potential for detecting these dangerous toxins before the water enters the treatment facility.
UC Center for Public Engagement with Science is a national and academic leader on climate and sustainability research, education and action and is funded by the UC Research 2030 plan.
UC chapter of Net Impact launched in 2022, the first chapter in the Cincinnati region for this globally recognized organization focused on sustainability-focused higher education
Bold Green Steps & Possibilities
P&G's Tide brand reduced its absolute greenhouse gas emissions in the direct manufacturing of its products by more than 75% annually (versus in 2010).
Cincinnati's Urban Farming Initiative is reinventing how and where we grow food.
Local construction companies including Neyer and Messer are leading their industries with the development of sustainable buildings, manufacturing, and materials.
Hamilton, Ohio is consistently recognized as having the world's best tasting tap water! As arid regions are struggling to deal with scarcity, this is a huge asset to have the great Miami aquifer under our feet.
Rhinegeist Brewery recently executed two wastewater projects, boosted recycling, and boasts a Charitable Suds program that donates
A Final Inspiration: The Queen City is a Green City
This video clip — shared with over one thousand top managers at Procter & Gamble as part of industry recognized Signal Conference — features Mike Zelkind, CEO of 80 Acres Farm; then-Cincinnati Mayor, John Cranley; Rodney McMullen, Chairman and CEO of The Kroger Co; Candace McGraw, CEO of CVG Airport, and Brian Cobb, Chief Innovation Officer of CVG Airport.